By STEVE KNIGHT/The Lufkin News | Posted: Sunday, December 14, 2014 12:30 am 
A Lufkin manufacturing company celebrated the completion of an expansion project on Friday.
Employees at PID Services cut the ribbon on its composite shop expansion project, adding an additional 3,600 square feet for a total of 10,800 square feet dedicated to composite processing.
With the completion of this expansion, the company now maintains more than 50,000 square feet of manufacturing space.
"We are very excited about the growth of our composite business,'' said Scott Slusher, the company's president and CEO. "The composite business is a great complement to our other business units. It is a highly specialized and unique new industry for Angelina County."
The manufacturing of composite products is a multibillion dollar business worldwide with products ranging from sporting equipment to automotive and aerospace parts, according to Slusher. The aircraft and automotive industries have long been challenged with making their vehicles lighter, stronger and safer, and a way to do that is to move away from metal and into composite materials, Slusher said.
Since it was established in Lufkin in 2001 as a controls and instrumentation company, PID has expanded its services to include metal fabrication, machining, crating, electrical panels and composites.
The company manufactures tooling for the Bell 525 relentless helicopter, the India Aeronautical Development Agency Tejas LSP-8 jet fighter and the Boeing 737 radome.
While aerospace will be PID Services' primary focus with composites, the company also will work with the automotive and wind generation industries.
"If you're part of a community, the first thing you want to do is keep people here and provide jobs for them," Mayor Bob Brown said. "We're thrilled to death that they have invested in this community. It warms my heart to know what can happen with vision and determination and hopefully with community support."
At the end of 2012, PID Services was granted tax abatements by the city of Lufkin, Angelina County and Angelina College requiring a minimum capital investment of $1.4 million and adding 12 additional jobs by the end of 2016 for a total of 47 employees.
"We're growing this company and we're going to a whole new area with this composite tooling," Slusher said. "We're the only company in East Texas that's doing this and it's bringing a whole new skill set to East Texas. We're going to continue to grow and develop this company and make more manufacturing components and aerospace components."
Slusher said the company has invested more than $2.8 million in facilities and capital equipment and employs more than 60 people.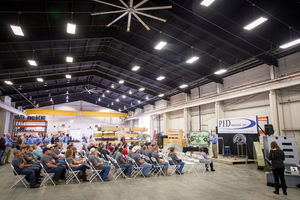 PID-LDN1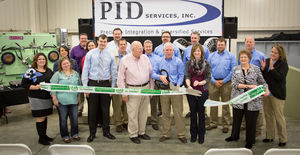 PID-LDN3